Gibsons Joiners & Builders is that rare breed of building company: one that employs the best talent, the latest technology and state-of-the-art techniques, yet is governed by a set of good old fashioned family values; one that invests in its workforce and provides ongoing training, yet subscribes to the notion of employing time-served tradesmen and craftsmen and giving a through grounding to new apprentices. This combination gives the best of both worlds, mixing the very best of the modern and the traditional in a family run building company that takes pride in doing the best quality work available.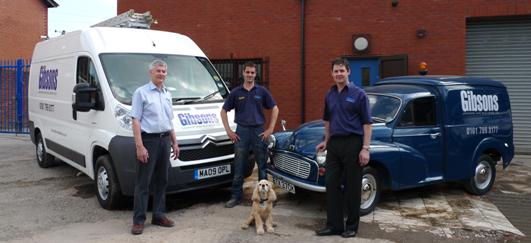 OUR HISTORY
In 1996, Richard Gibson left his employment with a local building firm and decided to "go it alone", operating successfully as a sole trader for six years.

In 2002, opportunities arose to expand the business and in order to help realise these, Richard's father, Denis, left his job as a Business Services Manager and former Lead Officer for Private Sector Housing with Salford City Council and became a co-director.

At the same time, Richard's wife, Kerry, joined the business as Company Secretary and Office Manager, bringing along her qualifications and background in business administration.

Thus Gibsons Joiners & Builders Ltd was registered as a private limited company in August 2002.

A key part of the plan was to find suitable premises from which to operate; these were soon found and extensively renovated to provide both functional and prestigious accommodation.
In line with maintaining a committment to family values and customer care, in 2011 Gibsons Treecare, previously run by Richard's brother, Robert, as a sole trader, joined the fold and is now a fully integrated part of the Gibsons buisness.



The team now comprises 16 people, including the Directors and Company Secretary plus administration staff, tradesmen and operatives.



We have invested in our workforce, achieving the Investors in People accreditation in 2005 and successfully passing our review in 2009 and 2012.

A similar commitment to customer care, health & safety and environmental issues means we can face the future with confidence.